Show Details:
Dates:
Tues 19th - Thurs 21st June 2018
Times:
Tue: 10:00-17:00 | Wed: 10:00-17:00 | Thurs: 10:00-16:00
Venue:
ExCeL London, Royal Victoria Dock, 1 Western Gateway, London, E16 1XL
Stand No.
N159
---

The Volt Stick LV50 is intrinsically-safe (ATEX & IECEx approved), making it an essential 'life-saver' testing tool for utilities engineers as well as for use in hazardous areas such as chemical plants, oil refineries and off shore rigs.
---
Join the Volt Stick team as we introduce our market-leading Volt Stick non-contact voltage tester to the global health & safety industry - presenting the product for the first time to the world's leading professionals and thought leaders at the 2018 Safety & Health Expo.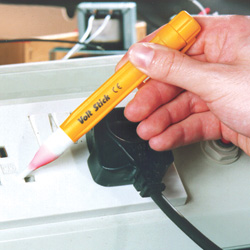 Volt Stick is the Original Non Contact Voltage Tester which is used for detecting AC Voltages in Cables, Pipes and any object with a Metallic surface. We have a range of Volt Sticks that are used in many sectors worldwide, from Rail Networks to the Gas and Oil Industry.
The Volt Stick LV50 is an Intrinsically Safe Volt Stick that can be used in Hazardous areas and is used as a Safety Tool in the Gas and Oil industry to check for stray voltages in Pipes and Meters.
We also have an Intrinsically-safe Magnet Stick which is used to test Solenoid Valves and is often used in Oil Refineries.

---
Volt Stick - approved electrical safety supplier to: