After a long and thorough period of testing, in November 2013 the Volt Stick LV50 and it's Proving Unit became certified for use by the UK's largest Rail Network Operator- Network Rail.
---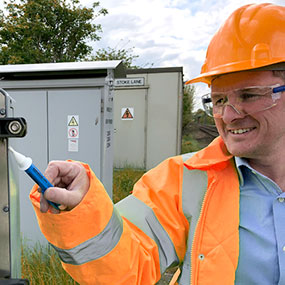 Network Rail had an issue with some of their trackside metal signal cabinets (known as LOC͛s) becoming live and causing a shock hazard to engineers and anyone working in the vicinity of the units. Network Rail needed a solution that could be implemented by anyone, not just electricians!
Many different options from various suppliers were tested but it was agreed that the Volt Stick LV50 was the safest and easiest option for non electrically trained engineers to check their work area for any potentially dangerous stray voltages. The Volt Stick can be carried around in anyone͛'s pocket and is instantly ready to use; no ͚on and off͛ switch or tricky controls to master.
The simplicity and reliability of the Volt Stick was crucial to rail engineers who wanted a procedure that they could trust and carry out quickly, rather waiting for an Electrical Engineer every time they needed to work near an LOC.
'Now Network Rail and their partners check every LOC with a Volt Stick LV50'
Now Network Rail and their partners check every LOC with a Volt Stick LV50 to make sure it is safe to touch; only when the Volt Stick detects a potentially dangerous voltage do they need to call for an Electrical Engineer to check.The LV50 is designed to detect voltages from 50v to 1000v , which is recognised as the safety threshold for electrical touch as published in the BSI PD 65193 standards.
Also approved for use by Network Rail is the Volt Stick Proving Unit. An engineer can quickly check that the Volt Stick is working as it should before and after it is used' particularly useful in the field where there are no known live sources to check the Volt Stick against!